How to Make the Perfect Bed: My Favorite Bedding Formula
Do you struggle to make the perfect bed? Or wonder how many pillows you really need? In this post I'm sharing my favorite bedding formula along with my 7 best tips for creating an inviting bed!
Did you know you spend a third of your life in bed??! It's actually pretty hard to believe! But it makes you realize how important that space truly is.
Getting quality sleep is one of the most important things we can do for our bodies. Which means having a perfect bed is not just about making it beautiful (though that's great too!) but even more about making it cozy and comfortable so we get the best sleep we can.
So today I'm sharing my favorite bedding formula and what I think are the seven most important tips for creating the perfect bed!
Pick a Quality Mattress
Your mattress is probably the most important component to a good night's sleep.
I know it's an investment, but again, a third of your life! You spend so much time there that it's important to buy the highest quality you can afford and replace it about every 10 years or sooner if it's wearing, sinking or you're waking up uncomfortable.
Confession: our last mattress was over 20 years old when we replaced it, and believe me, it was a dramatic difference when we finally did!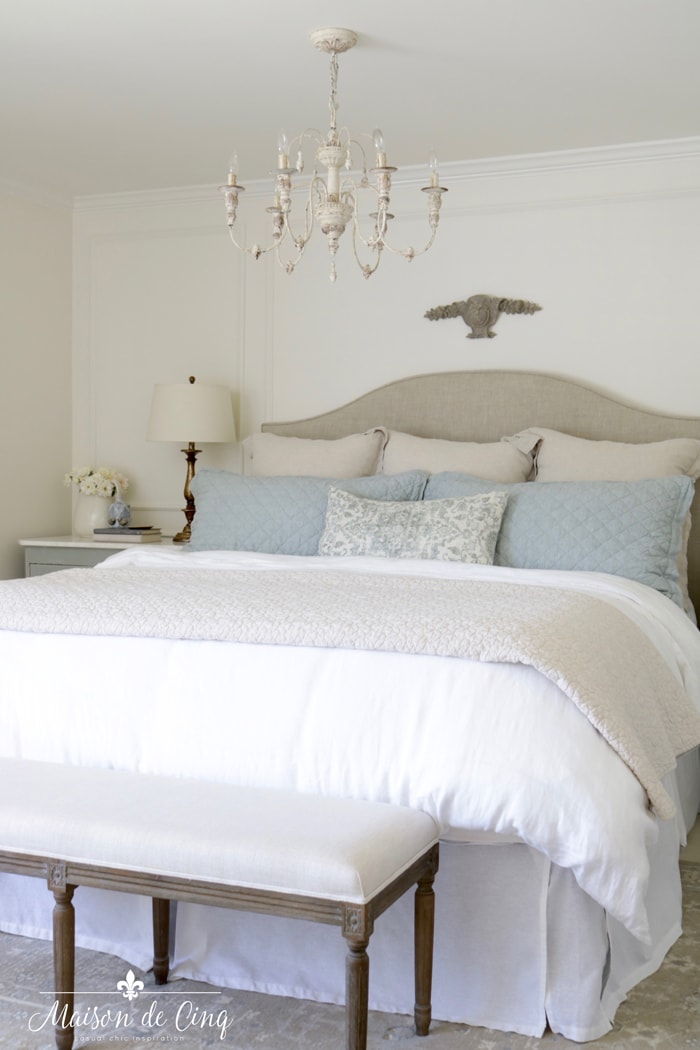 Add a Headboard
Oh yes, the headboard debacle! If any of you were reading last year when I redid our bedroom you know how my custom headboard was completely ruined and I ended up doing my "reveal" with no headboard at all!
It then took another 4 months before I finally had one made and I am over the moon! Believe it or not, we never had one before. We've been married over 20 years and we literally never had one. I either couldn't find one I loved, or it was too expensive, or it didn't come in our size (California Kings are extremely hard to find).
But now that we finally have one, I can wholeheartedly say it is worth every penny!! What a luxury it is to lean comfortably while reading or relaxing in bed. And it sure makes watching TV much more comfortable, too!
The best part is you can find headboards so affordably these days (that is, unless you have a California King mattress, haha!)

Use a Mattress Cover
I know many people skip this part thinking it's not important, but I really think it is. Buying a quality mattress cover helps to make your mattress last longer and protects against dust mites and other things getting trapped in there and causing allergies. Did you know your mattress can double in weight by collecting dust mites?! Eek! Reason enough for me to buy a quality mattress cover!
If you want to splurge, you can also add a feather topper for extra comfort and luxury.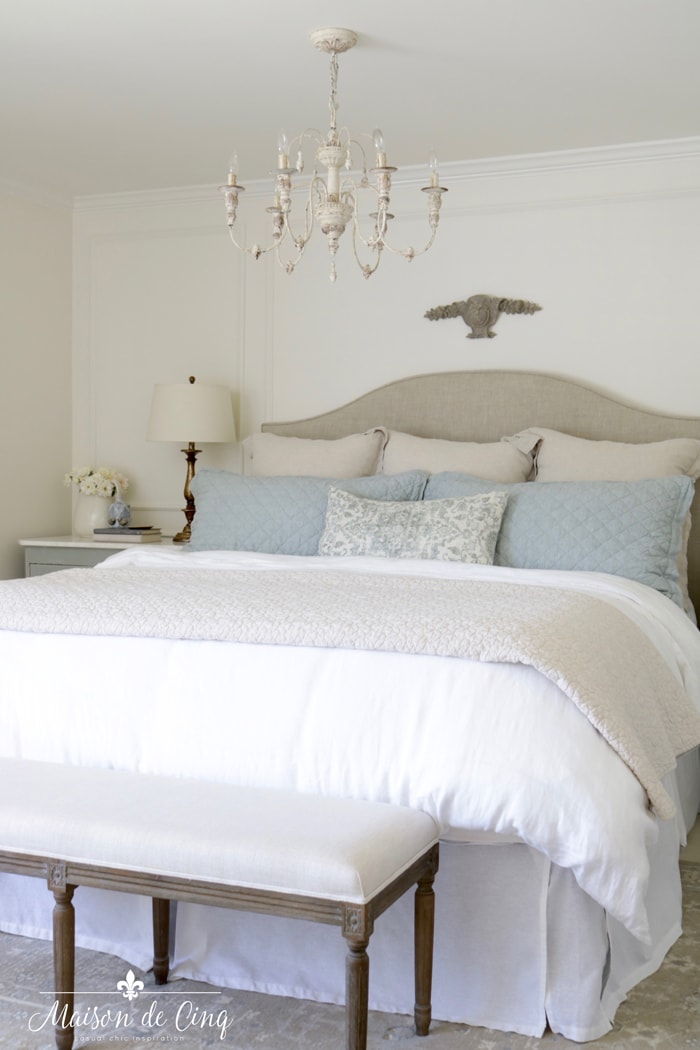 Buy Quality Sheets
There are about a million types of sheets on the market these days, and lots of people have different opinions about what is the best.
But for me, I have found that natural fabrics are absolutely the way to go. We prefer 100% cotton. I'm sure you've heard about thread count so I won't go into that here, but suffice it to say that I think you should just buy the highest quality cotton you can afford. Some of the highest thread count sheets feel stiff and not at all splurge worthy so make sure that if you are going to spend money either feel your sheets or read a good number of reviews.
I own several sets of these Pottery Barn sheets and we've always loved them. But my new favorite sheets are from Brooklinen! They make an amazing product at a great price and they have thousands of rave reviews!
One caveat; we recently bought our first set of bamboo sheets and they are amazing, especially for summer!! My husband is super picky about sheets and he is frequently hot – but not with these! Bamboo sheets tend to be a little high in general, but I've also heard the Target ones are pretty good, and you can't beat the price!
And I got a few questions about my favorite sleeping pillows! We've struggled for years to find something we like and recently bought these and love them! We got down-filled but they also have poly-fill, and they come in different fullnesses depending on your sleeping position. They are not cheap, but they do feel like luxury hotel pillows!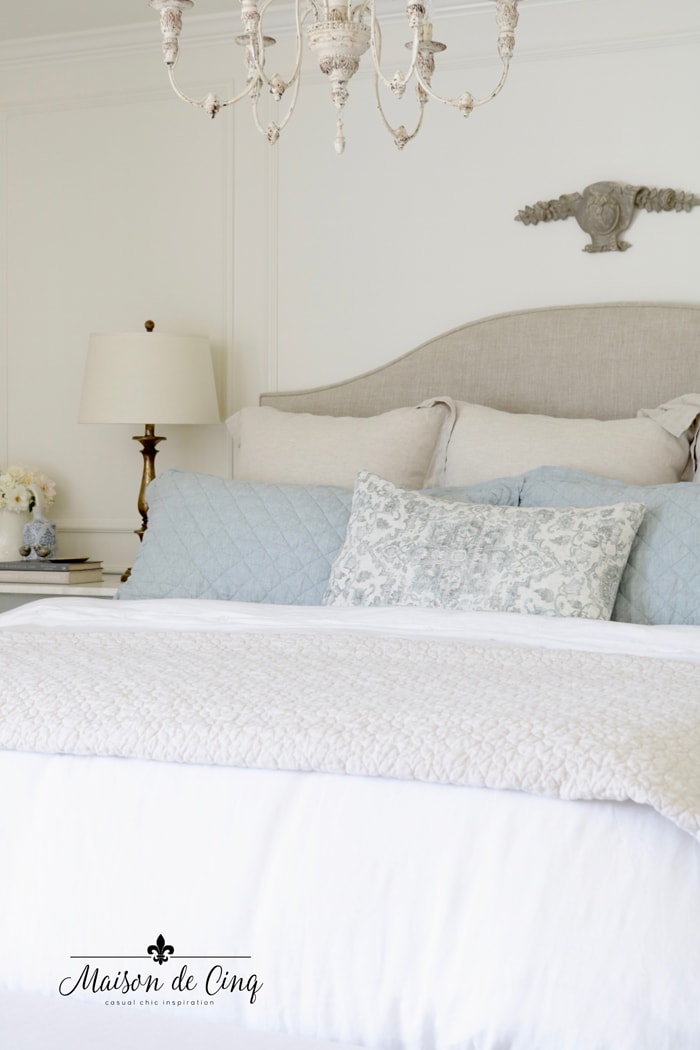 Add Blankets
Here you can pretty much go as heavy or as light as you wish. We have a lightweight knit cotton blanket that we use in spring and summer. It's perfect for when you want something more than a sheet but a heavy blanket would be too much.
And if you live in a colder climate, you can always layer another lightweight blanket for added warmth or simply switch out the lightweight one for a heavy duty one. But again, I recommend buying only natural fabrics here as well for breathability and comfort.

Add a Linen Duvet
I am a huge fan of linen bedding! Our duvet as well as our decorative pillows are linen and I couldn't love them more. There are lots of linens out there at all kinds of price points, but all of ours are from Pottery Barn. I find them to be very high quality for the price, and they come in a pretty wide range of colors. You can use a down or down-alternative inside.
I know some people dislike the wrinkling but to me, it's actually a plus. It feels more relaxed and makes our room feel less "fancy" while also creating more of that European look that I love.
I love to use a white linen duvet as a "base." That way, you can change pillows and/or whatever throw you have at the bottom of the bed when you want to change the look of the room. Even if you don't go with white, it's not a bad idea to buy a linen duvet in a neutral, solid color. It is probably the most expensive item on your bed (aside from the bed itself) and by buying something versatile it will last much longer.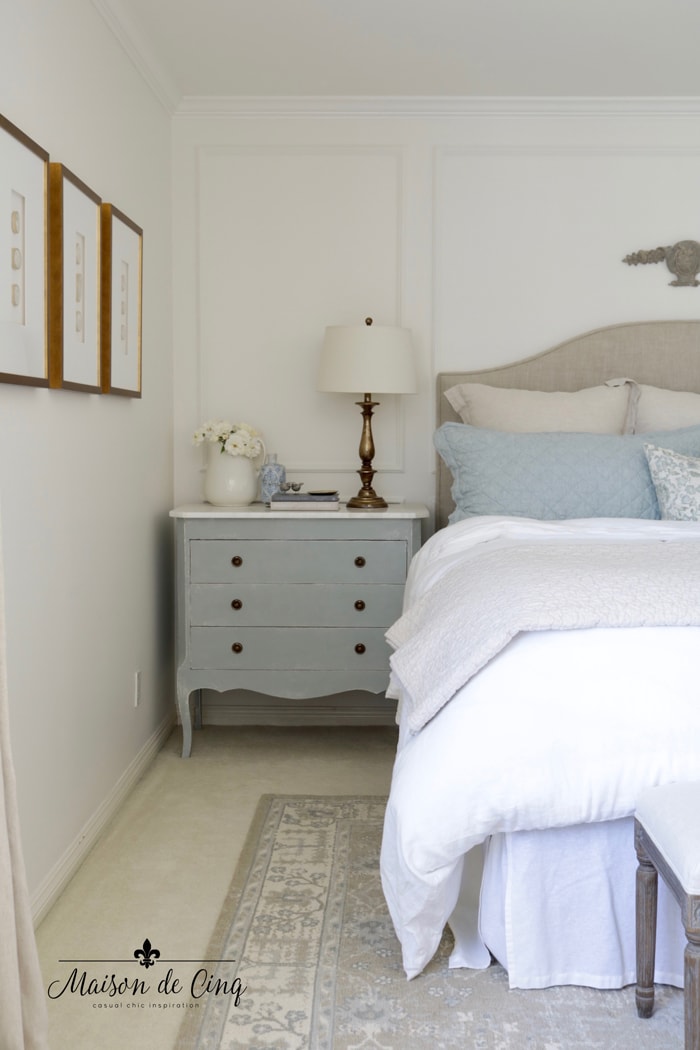 And the Fun Stuff: the Pillows!
Now onto the fun stuff right?! This is the part most people are focused on! I'm actually a lover of simplicity and I don't usually go too crazy with throw pillows on the bed.
My favorite bedding formula consists of Euro pillows at the back against the headboard, with two decorative shams in front, followed by a smaller decorative pillow. Or you can also skip the decorative shams and do two 20″ pillows in front of the Euros and then the decorative pillow.
Either way, three layers is the most I ever do – the simpler the better for me.
My Euros and decorative shams are both linen from Pottery Barn. I absolutely love the quilting and the texture it adds, and the pretty French blue really set the whole tone for the room.

Wishing you all a good night's sleep tonight! 😉
Sheila
xo
Shop the Post!

*please note affiliate links are included*
Now I hope you'll stop by my friends who are also sharing their best tips all about bedding!
Seeking Lavender Lane: Neutral Summer Bedding
Shades of Blue: Lighter Bedding for Summer
So Much Better with Age: How to Style a Bed
Thistlewood Farms: Favorite Bedding Combinations
Tidbits: 20 Stunning Bedrooms with Beddy's Beds
If you enjoyed this post, be sure to check out more decorating ideas and inspiration below: