Home Changes and Makeovers We Accomplished in 2019
Hello friends and Happy Almost New Year! Today I'm joining in on a really fun and different blog hop, hosted by my friend Lory of Designthusiasm! Eighteen of us are sharing our home changes and makeovers that we accomplished in 2019. Everything from lighting and paint changes to full kitchen remodels ~ there are so many great posts here. And it's such fun to get inspiration and ideas from what others have done!
One of the first (and most exciting for me 😉 ) changes that took place this past year was the addition of our antique Mora clock to the living room! For me, this was a dream come true and I can't believe what a difference it made in the overall space.

Another of my personal favorites was finally getting to makeover our master bedroom! We turned a dated room into a soft and pretty space with a French farmhouse feel. And I couldn't be happier with how it turned out!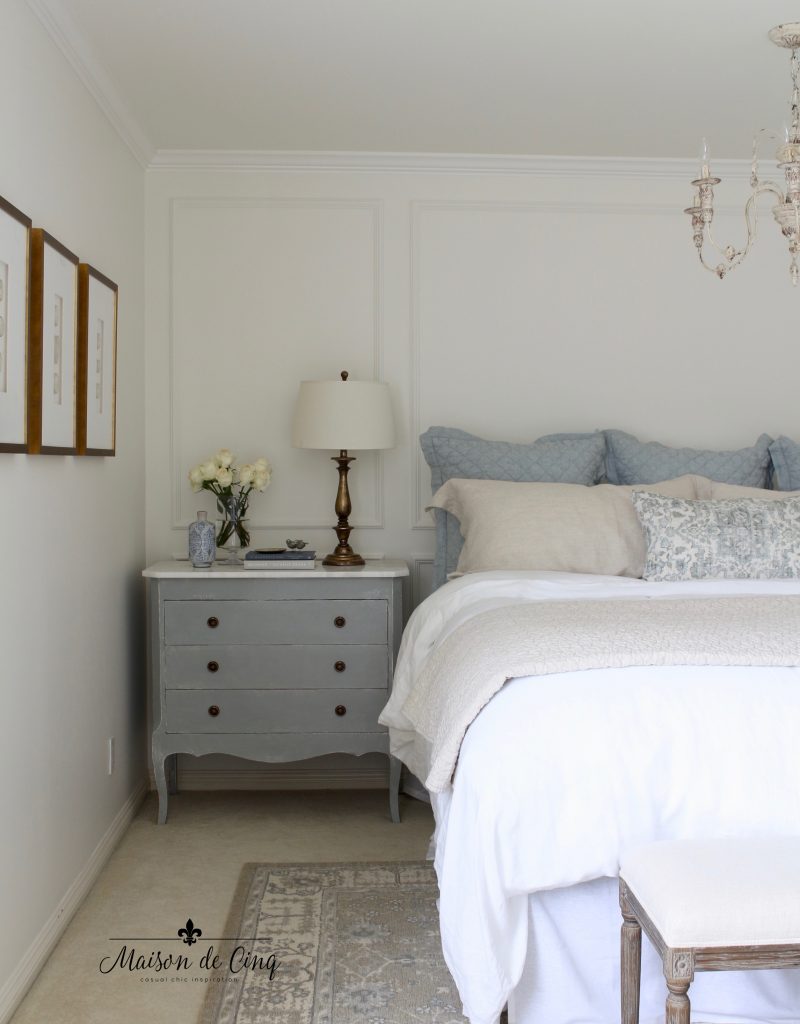 And probably the biggest project we undertook last year was the complete remodel of our pool and backyard!

Then after the full pool and landscape remodel, I did some finessing of the patio/backyard living area. One of the first things I did was add these romantic outdoor chandeliers.

And a small but subtle change was the addition of these French country sconces in the entry way.

We did a little coastal-style room refresh in my teen daughter's room.

Another definite favorite was the new woven wood shades we added to the entire downstairs. The color of the old ones was so orange, haha! Not only are these prettier but by having the same style on every window really keeps the design consistent.

And though I didn't have a chance to write a whole post about it, I swapped out the old coffee table in the family room for this lighter version. This table is from Wisteria ~ they do such a great job with their reproductions! They really give that European feel that I love 😉

Another new item that arrived right before Christmas was the farmhouse dining table for the dining room. If you've been following along for awhile now, you might remember that I was looking for a more affordable version of the RH farmhouse table (you can read all about my search and what I found in this post). I ordered it last May and it was on back order all that time, so it was pretty exciting for it to arrive just in time for the holidays! The only drawback is that I didn't have time to do a post about it (I may still do that!) You can see it in the Christmas dining room post though 😉

(*affiliate links are included for your convenience)
Admittedly, we didn't finish everything on the 'to do' list, but I'm pretty happy with how far we've come this year. Some changes – like the yard and our bedroom – we were literally waiting years to finish! But even other small changes do help and certainly make me feel like I'm getting somewhere.
So now, what's in store for 2020?! Well, of course, the things we didn't get to in 2019 will be first on the list! Not to mention lots of organizing of closets, garage, etc. which I'll be sharing with you.
A few of the bigger projects I'm hoping to accomplish are:
1. Complete remodel of the kid's bathroom
2. Complete remodel of our master bathroom
3. PAINT! This includes the entire downstairs and kitchen, as well as a few spots upstairs that haven't been redone in years, such as the hallway and all the trim in the house
4. Get headboard for master bedroom (this was not done when the bedroom was remodeled)
5. Find/order pull out sofa for the office/guest room
6. Strip inside of front doors to a more natural/raw wood color
7. Chalk paint console table in breakfast area
8. New living room sofa
9. New carpet in upstairs
10. Throw pillows for family room sofas
11. Lime or whitewash the brick fireplace
I'm pretty sure we won't get to all of these, but I do hope to get to at least half of them! And I'll be doing at least one of the One Room Challenges which I love because it makes me make it happen! 😉
Sheila
xo
Now I hope you'll visit some of my friends below and see what home changes and makeovers they did during 2019!
Designthusiasm | On Sutton Place | Maison de Cinq
French Country Cottage | Thistlewood Farms | Town & Country Living